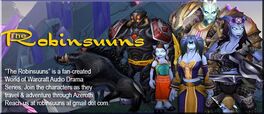 The Robinsuuns is a collaborative audio drama series for podcasts which was envisioned and written by Harper Sylvan. Harper is a role player from Earthen Ring who awoke one morning with an idea for an audio drama series depicting characters who exist in the World of Warcraft --a Draenei family. The audio production is engineered by Stardancer of Earthen Ring. A series like this can not be done without the help, support, and voice talents of friends, family, neighbors and fellow role players from the Warcraft community.

The story centers around a family of Draenei, The Robinsuuns, who are separated after the crash on Azeroth. The story takes us through their journeys and trials as they search to find each other in the strange new world of Azeroth. Basically, the series takes role-play up a notch by making interactions an entertaining radio play.

Where to Find and Listen to Episodes
[
edit
|
edit source
]
New episodes appear on the odd numbered Epic Dolls podcasts starting at episode 33. And by special request, the episodes are also available individually on Podbean, iTunes and at The Robinsuuns site.

You can contact Harper with any questions or comments about the show at robinsuuns(at)gmail(dot)com.

Voice talents range from the following Earthen Ring Players:
Tharion
Sullivan/Shaw of rpmadesimple.org
Laurano Rivind
Larisan Tenari
Stardancer
Winterglade
And more!

Writen by: Harper Sylvan
Produced and Engineered by: Stardancer

The Robinsuuns at RP Made Simple


The Robinsuuns will be ending with Epsiode 20. A new series will begin thereafter featuring Demon Hunters, Death Knights, Forsaken, and more.



---
The Robinsuuns is a fansite with fictional characters and original stories based on the World of Warcraft MMO game. Audio segment story content are the intellectual property of © 2008 Harper Sylvan. Audio preparation and design © 2008 by Stardancer. All images depicting the world and character design belong to Blizzard - World of Warcraft.
Community content is available under
CC-BY-SA
unless otherwise noted.