Protectors of Khaz Modan
Faction
Alliance
Guild Type
Roleplaying
RP Level
Medium
Size
15 (At present)
Guild Master
Taminak Silverthorn
Contacts
Angir
[www.protkhaz.freeforums.org/ Website Link]
' Define either Guild or Group.
gfaction: The faction of the guild. Define either Alliance, Horde, or Cross-Faction.
gtype: The type of play the guild focuses on. Define either PvE, PvP, or Roleplaying.
g_rp: The roleplay level of the guild. Define either Light, Medium, or Heavy.
gsize: The size of the guild, exact or ambiguous.
gm: The guild master of the guild. If there are multiple guild masters, list all.
contacts: Primary players to contact in-game, other than the guild master, about the guild, if necessary.
website: The website of the guild. If there is no website, simply enter No.
sort: OPTIONAL - Used for sorting pages alphabetically if they have an article as the first word in the name (ex: "The Guild of Things" would have "|sort=Guild of Things" added into the information, like any other line).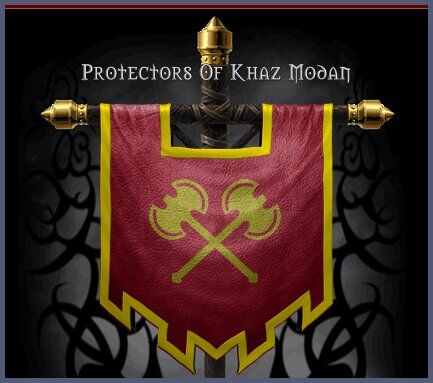 The Protectors of Khaz Modan were formed in late March 2008 and since then have become a well established Rp guild in the Earthen ring society. The Guilds first leader and present leader is Commander Taminak Silverthorn, Lord of the Silverthorn Clan and founder of the Military Council of Azeroth. Taminak was orginally a member of the Knights of Khaz Modan, but left after finding out his Thane-ship with the Silverthorn Clan.
The Ranks of the Protectors
[
]
Goals of the Protectors
[
]
The Protectors were set up to safe guard the land of Khaz Modan against the ever increasing attacks from the Horde. Its main aim is to remove the Hoarde from the land,although other small groups of enemies (mainly Dark Iron Dwarves.) are also attacked time and time again to remove them from our lands. The protectors Patrol all of Khaz Modan, therefor having to face such diverse enemies as Troggs to Dragonmaw Orcs from the Wetlands.
The protectors also aim to work with others to improve their lands as well. It has been commonly known that the Stormwind City Guard are close allies with the Protectors. The Protectors Commander Taminak Silvethorn founded the Military Council on the basis he wished to see the Biggest Military and Guard groups work together to form a better protection of the Lands of Azeroth and bring the council members back together again, working under the term Alliance once more.
Overal the Protectors wish to Safeguard the land, as well as bring the alliance back to work as one unit instead of many several smaller coalitions.
Current Members
[
]