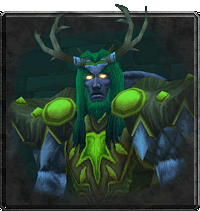 Malfurion Stormrage
(also Shan'do Stormrage or Furion Stormrage) is the greatest Druid ever to live, and arguably one of the most powerful beings in history.
SUMMARY FACTS:
Edit
Night Elf
Twin Brother of Illidan Stormrage.
Lover and beloved of Tyrande Whisperwind.
Renewed the practice of druidism among the Night Elves after tutelage from the demi-god Cenarius.
Helped destroy Queen Azshara's portal and Well of Eternity and during the first invasion of the Burning Legion with the help of the Cenarius and Tyrande.
Imprisoned Illidan to be guarded by Maiev Shadowsong and her wardens for creating the new Well of Eternity, but couldn't bring himself to kill him.
Became Arch Druid of the Night Elves.
He fought against the Burning Legion a second time after being awakened from the Emerald Dream by Tyrande.
Performed the ritual that destroyed Archimonde and the first World Tree at the Battle of Mount Hyjal.
Befriended the tauren Hamuul Runetotem, imparting his knowledge of druidism to Hamuul. Before this there had not been a tauren druid in almost twenty generations. Hamuul went on to teach what he had learned to many other tauren, and became the first tauren ever accepted into the Cenarion Circle.
He first appeared in Warcraft III: Reign of Chaos (Eternity's End) and subsequently appeared in The Frozen Throne (Terror of the Tides) and the War of the Ancients trilogy

---
To read more about Malfurion Stormrage visit:

Community content is available under
CC-BY-SA
unless otherwise noted.