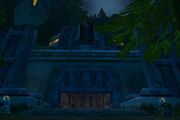 Langley Firearms is the alliance army's leading manufacturer of munitions. Previously owned and operated by Byron M. Langley, the firm's ownership was handed over to the government of King Bronzebeard (see newspaper clipping below).
---
Ironforge Herald, Front Page, September 3rd
Gun Tycoon Sells Company to Alliance Military
-Alan Greenspanner
This morning at approximately 10:35 Stormwind Standard Time, firearms manufacturer and long-time Alliance patriot Byron M. Langley handed over the keys to his Ironforge and Elwynn plants to senior military officials and a representative of king Bronzebeard for an exceptionally large sum of money. Mr. Langley confided to the press that this was a move "I'd only dreamt of between cigar breaks, as the start of a long awaited retirement"
When asked about his feelings at handing over the reigns to a veritable monopoly on armament technology, Mr. Langley gave us all a good laugh and suggested that "at least now the brass can lock and load their own gun, without a gnomish middleman."
Mr. Langley plans to enter true retirement later this week, starting with mechano-back world tour. When asked about reknowned socialite and wife June Langley's opinions on the trip, Mr. Langley could only respond "Gentlemen I assure you, the vacation is the first tug of her chain. And let me say that for once I am thrilled to have someone else lead me around."
Shareholders have been informed that they will retain stock in the company, which will remain a somewhat privitized branch of the Ironforge Production Commonwealth, and economists are confident that stocks will continue to steadily rise as the push into the Outland continues
((Posted by Langley on the ER WoW Forums [1] on September 3rd, 2007))
---
Langley Firearms' headquarters can be found on Aerie Peak in The Hinterlands. Both the plant and the employee dormitories are within Wildhammer Keep.
Among others, Langley employed a motley group. The change of ownership leaves their status currently in question.
If you are interested to learn more about Langley Firearms, you may do so through in game mail by contacting the bossman, any of his employees or even Mr. Langley's wife, Bonnyjune Langley.
Community content is available under
CC-BY-SA
unless otherwise noted.