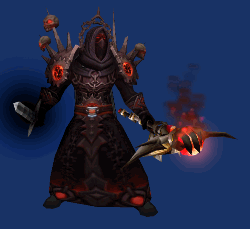 Biography
Full Name: Kaeluc Sel Valyre

Alias: The Silent Corrupter, Kel, sometimes he is also known as Telic when he wishes his true identity not to be known.

Hometown: Stormwind, currently resides in the catacombs underneath the city.

Birthplace: Darkshire, before the corruption of the forest.

Age: 26 but looks older because of the effects of fel magic.

Apparel: Mostly robes imbued with power combined with a hood or cowl. For intricate spell work a large, powerful staff is generally needed, otherwise Kaeluc carries a one-handed sword and a fel artifact in his off hand. Around his neck is always an amulet in the shape of a demonic rune that pulses a dull blue.
Current Status: Kaeluc is presently studying ledgers and grimoires in his private library beneath Stormwind. Over the past few years he has been collecting every book concerning demons and fel energies. Most of these books have been banned or outlawed. Kael is attempting to further his knowledge of the powers he commands and is carefully making preparations for the attack on Northrend. Most of his current interest is focused on the dead and the raising of them.
Personality
Kael is a very sarcastic person, his involvement with the dark arts has developed his morbid satisfaction for watching others suffer physically, and it carries over into emotional and mental anguish as well. He hardly ever laughs unless something malefic is happening and then, only a thin smile and a small chuckle might escape his lips. Despite his lack of sympathy for most living things, and his enjoyment out of manipulating his demonic minions, Kael hates the real demon threat and everything the burning legion stands for. He knows well enough about rules and politics to play along as long as they are in line with his agenda. And although he may be civil with the Horde at times, he gets his most enjoyment out of torturing them.
Alignment
Physical Appearance
Kaeluc has a stern look constantly covering his visage. Sis cold, slate blue eyes are covered partially by his auburn hair but a faint green glow can be seen radiating from them. He walks in a stiff manner, but carries himself with a great confidence, bordering on arrogance. His head is downcast, trying to avoid eye contact as much as possible. He is clad in dirty travel robes of every variety of dark color. Around his neck hangs a glowing blue pendant in the shape of some demonic rune, and at his side he carries an enchanted long sword. Hung to his back dangles a demonic staff pulsing with evil energies. Kaeluc's every move is one of careful calculation and a hint of paranoia, his hands always in his pockets preparing for some horrifying spell.
Raiments
History
Links