Journey
Faction
Alliance
Guild Type
PvE
RP Level
Light
Size
Small/Medium
Guild Master
Ishada
Contacts
Kuraudo, Bit, Luciius, Casador, Daimeon, Altruisa
Website Link
' Define either
Guild
or
Group
.
gfaction: The faction of the guild. Define either Alliance, Horde, or Cross-Faction.
gtype: The type of play the guild focuses on. Define either PvE, PvP, or Roleplaying.
g_rp: The roleplay level of the guild. Define either Light, Medium, or Heavy.
gsize: The size of the guild, exact or ambiguous.
gm: The guild master of the guild. If there are multiple guild masters, list all.
contacts: Primary players to contact in-game, other than the guild master, about the guild, if necessary.
website: The website of the guild. If there is no website, simply enter No.
sort: OPTIONAL - Used for sorting pages alphabetically if they have an article as the first word in the name (ex: "The Guild of Things" would have "|sort=Guild of Things" added into the information, like any other line).
Journey is a casual and mature guild with a light roleplay, raiding, and overall atmosphere for those who want to experience the game content offered but are not pressured to do more than they can, all in all a "Casual Raiding Guild."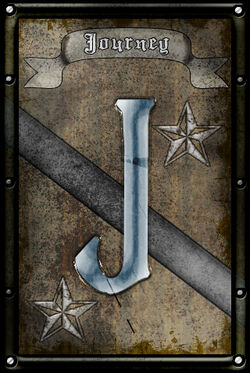 Head of the House
Edit
Class Leaders
Edit
Druid: Rathorius
Hunter: [open]
Mage: [Open]
Paladin: [Open]
Priest: [Open]
Rogue: Joxxor
Shaman: [open]
Warlock: [Open]
Warrior: Khellian
The Story of the House of Journey
Edit
RP History:((More to come))
Non-RP History: "Journey" was actually derived from another guild that disbanded in the past called "Midnight Tram" which in fact was also derived from "All the Kings Horsemen." Midnight Tram was lead by Kades (Anatherion); but in its short, but fast life died one day. "Journey" was founded by "Avail" (who is now Kuraudo) but later on passed leadership to someone he knew would be able to lead with a iron-fist. Ishada became the new guild leader, but Kuraudo remains her right hand man. Together with the help of Luciius, Khellian, Altruisa, Daimeon, and many more, the founded the guild "Journey." It remains today doing raids, building friendship, and earning the trust of the Earthen Ring community. --Kuraudosoul 20:00, 19 April 2008 (UTC)
Community content is available under
CC-BY-SA
unless otherwise noted.