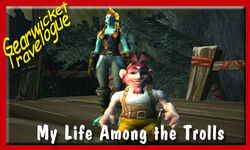 Basic Information
[
]
Full Name:James Tiberius Gearwicket II

In-Game:Gearwicket

Guild: House of Stormrage

Title: His-Tinkerer-Webness

Race: Gnome

Class: Warrior, on haitus

Level: Level 2 Tank!

Professions: Tinkerer

Marital Status: Married to Muthara (as seen in my postcard)

Current
[
]
My name is Gearwicket. One Christmas morning several gnomes and I ventured through the perilous lands of Darkshore. Through rabid animals and slithering Naga we finally reached our destination, the dancing troll village of Darkshore.

There, I made my home among the trolls and married Muthara, and boy, can she cook! Never understood a single word she said, but we always have a mighty fine time!

Joy to the world, peace out!