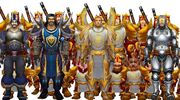 General Information
[
]
Full Name: Fain Nodhrn
In-Game: Nodhrn
Nickname: Goblin-Kein
Race: Gnome
Class: Paladin
Professions: Channelation of the Light, Alteric Holy Magics, Swordsmanship, Light Tomes, Maces
Alignment: Chaotic Good
Title: Cleric Fain Nodhrn
Birthplace: New Stormwind, Elwynn Forest
Appearance
[
]
Age: 43
Gender: Male
Hair: Bald on the top, short at the very base of skull, a tongue-red color.
Eyes: Orange
Weight: 65 lbs.
Height: 2"9
Other: He can be seen with an odd sort of glint in his eye. One of extreme clever, naivete, and danger.
Carried Items
[
]
Bugger, Hammer of Swine -
The Hammer of Swine was purged from a small creature flaunting the name of Snargflail. Located deep within the Kobold Mine in Loch Modan, Fain traveled on an expedition to kill the creature. From its corpse he took Bugger.
"F*** You Orc", Pistol of Holy Heavens -

Given to him by the one and only Turalyon, he cherishes this Tauren-Sized pistol with his life - unfortunately, the ability to shoot it one handed is beyond him.

And of course, his Paladin Tome, given to him upon completion of his Lights Training by Uther the Lightbringer.
Personality
[
]
(More to come!)
Pictures and Animations
[
]