---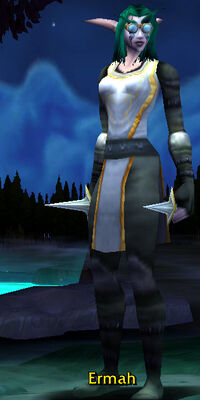 Basic Information
[
]
Full Name: Ermah de Medici
In-Game: Ermah
Nickname: Erm, Pyro
Alignment: Chaotic
Race: Night Elf
Class: Hunter
Professions: Weapon manufacturer, Engineer, Psycho
Physical Description
[
]
Age: 76 (early teens)
Sex: Female
Hair: Green
Eyes: Glowing
Height: 6'9"
Garments/Armor: Black leather armor, protective goggles, dynamite
Other: Ermah is often seen in the company of Bitey, her raptor, or Pinchy, her crab.
Personality
[
]
Ermah has succumbed to the insanity which plagues the rest of the de Medici clan. Her particular form of insanity includes adoring explosions and slightly dangerous pets.
History
[
]
Ermah is the younger child of Denari de Medici and younger sister of Edrek de Medici. Her mother died when she was quite young and, as is the case with most de Medicis, her father is unknown. She was raised by the clan as a whole until deciding to follow her brother and cousin, Aylee, to find her fortune in Stormwind.
In her case, fortune meant a fortune in repair bills for the Stormwind Guard and the Crimson Hound Brigade, considering Ermah's penchant for detonating expensive wooden tables.
She looks to Aylee as something of a parent figure and Edrek as something of a nuisance.