' Define either Guild or Group.
gfaction: The faction of the guild. Define either Alliance, Horde, or Cross-Faction.
gtype: The type of play the guild focuses on. Define either PvE, PvP, or Roleplaying.
g_rp: The roleplay level of the guild. Define either Light, Medium, or Heavy.
gsize: The size of the guild, exact or ambiguous.
gm: The guild master of the guild. If there are multiple guild masters, list all.
contacts: Primary players to contact in-game, other than the guild master, about the guild, if necessary.
website: The website of the guild. If there is no website, simply enter No.
sort: OPTIONAL - Used for sorting pages alphabetically if they have an article as the first word in the name (ex: "The Guild of Things" would have "|sort=Guild of Things" added into the information, like any other line).
Info
[
]
Started: January 01, 2009
Structure: Leadership changes on a weekly basis, via random roll.
Recruitment: Open. Members can go with or without the guild tag. Membership is in public record at the Registrar.
Synopsis
[
]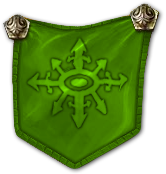 The Aegis of Olethros is an organization that recognizes several things in today's world: the difference between Order and Good, Chaos and Evil, as well as the need for balance in a time when the scales lean far in favor of order. First and foremost, while the Aegis associates itself with the Nether (Which is chaotic, not evil), the Aegis does not affiliate with the Burning Legion or subsidiary cults.
Public Roster
[
]
Viewable at the Visiter's Center in Stormwind City.
Members
Nerit
Meris
Veras
Anerin
Corod
Tavionus
Elaniel
Gledriran
Nymphistra
Rossalyn
Ahriman
Riyad
Zaan
Mimmsie
Alexandretta
Signers
Sifre